"
Trading Places
" is the second episode from the 
fifth season
of 
Barney & Friends
.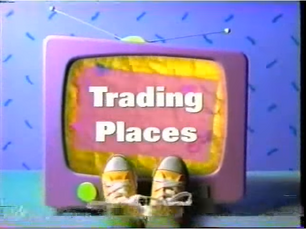 Baby Bop and BJ are jealous of each other's lives, and they are quickly taught a valuable lesson when they decide to switch identities for a day. At first, each is thrilled to have the other's life; BJ enjoys the lack of responsibility brought on by being a toddler and Baby Bop likes the respect she is afforded through her added years. But as the day progresses, each learns to appreciate who they really are and wants things back the way they were. The children each share a similar emotion when they begin to envy something about one of their friends. Everyone gains wisdom when Stella shares Aesop's fable "The Dog and the Bone." BJ, Baby Bop, and the children all learn to appreciate what they have and realize they are all special just the way they are.
Educational Theme: Coping with Jelousy, Being Yourself
Stories: The Dog and his Shadow / The Sleeping Princess
The Barney costume from "​If the Shoe Fits..." is used.
The Barney voice from "Up We Go!" is used.
The BJ costume from "We've Got Rhythm" is used.
The BJ voice from "It's Raining, It's Pouring..." is used.
The Baby Bop costume from "​Barney's Adventure Bus" is used.
The Baby Bop voice from "Barney Live! in New York City" is used.
In this episode, the song, "By Myself" receives a totally different instrumental rendition, switching the original pop arrangement to a ragtime arrangement. This arrangement is to this day the current arrangement for that song.
This is another time something happens to the Barney doll before coming to life. It was when Stephen accidentally threw Barney, thinking he was throwing a football. However though, he didn't really mean that.
This group (Jeff, Keesha, Kristen and Stephen) also appeared in Be My Valentine, Love Barney (with Jill).
This episode aired the same day that Barney's Good, Clean Fun! / Barney's Oh, Brother...She's My Sister was released.
International Edits
Edit
In some international versions, this episode was shortened.