Charlotte Diamond
, CM (born 31 July 1945) is a Canadian children's singer. She has recorded 12 albums including the Juno Award winning
10 Carrot Diamond
. Some of her most popular songs include "4 Hugs a Day", "I am a Pizza", "Octopus", "Each of Us Is a Flower", and "May There Always Be Sunshine". Charlotte Diamond has also recorded songs in Spanish and French, including "Je suis une pizza" and "Qu'il y ait toujours le soleil". She has toured in Canada and the United States.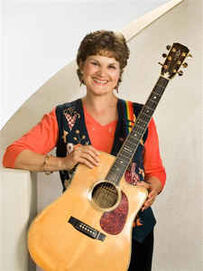 Charlotte Diamond was born in Nanaimo, British Columbia. She graduated from North Delta Secondary School in 1963. She attended the University of British Columbia to study French and zoology.
Awards and recognition
Edit
On June 30, 2016, Diamond was made member of the Member of the Order of Canada by Governor General David Johnston for "her contributions as a children's entertainer who, through music, helps develop creativity and self-expression in youth."
1986 - winner, Juno Award, Best Children's Album, 10 Carrot Diamond
1987 - nominee, Juno Award, Best Children's Album, Diamond in the Rough
1989 - nominee, Juno Award, Best Children's Album, Diamonds and Dragons
2003 - nominee, Juno Award, Children's Album of the Year, Nous sommes tous comme les fleurs
Discography
Edit
10 Carrot Diamond
Bonjour l'hiver
Charlotte Diamond's World
Diamonds and Daydreams
Diamonds and Dragons
Diamond in the Rough
My Bear Gruff
Nous sommes tous comme les fleurs
Qu'il y ait toujours le soleil
Sing-Along with Charlotte
Soy una Pizza
The Christmas Gift
External links
Edit